I prepared for our Easter celebration by spending most of the day Saturday in kitchen cooking and baking. I made a potato salad, a broccoli salad, jello, a glaze for the ham, then decided I
needed
to bake orange rolls. Lance's aunt Maribel, who passed from cancer several years ago, was the Orange Roll maker extraordinaire in our family. I'd never even tried to make them before, but I suddenly wanted her orange rolls.
So I made a double batch. And they turned out quite well.
On Sunday we got up early to enjoy what the Easter bunny had left us. Each year he brings new dresses for the girls. He's learned not to bring clothes for The Teenagers.
The girls loved their dresses.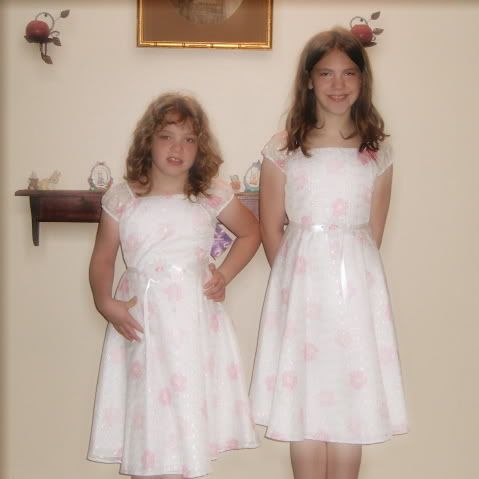 We all dressed and went to Seatttle to go to church with my sister and her family and my father.
While we were inside at the service, someone broke into our suburban and robbed us. They took The Teenager's Ipod that we gave her for her 18th birthday in January, about 20 cds and my little girl's handicapped placard.
We called the police and filed a report, but we won't ever get the things back, and insurance won't cover our loss.
Happy Easter to us....